Partnering Practitioners
How We Help
Lionheart Foundation partners directly with counselling professionals in the community including registered psychologists, Canadian Certified counsellors, social workers, nutritionists and others.  This partnership is facilitated by a financial subsidy program that provides counselling subsidies to adolescents and their families facing financial barriers, thereby ensuring access to the therapeutic supports they require to address anxiety and anxiety based issues.
We also work to enhance the therapeutic skills of medical professionals in our network by providing professional development workshops, training and online resources focused on treating youth facing anxiety problems.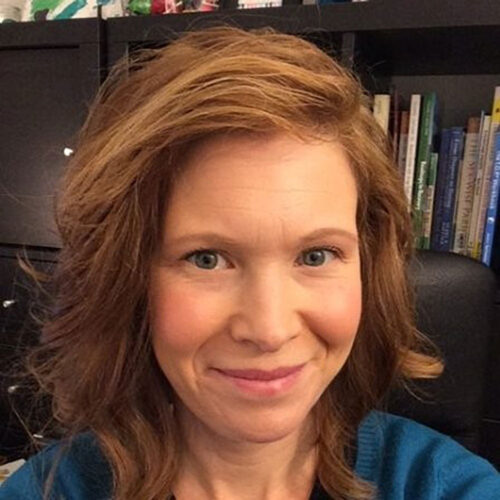 Our Clinical Director
Teresa Winfield, MSW, RCSW, is a clinical social worker with 20 years of experience working with children, youth, adults and families.  Teresa uses her experience as a clinician to elevate the work of the Foundation and to increase access to and knowledge about evidence-based therapeutic services for young women and their families, and the professionals who care for them.
Throughout her career, Teresa's passion has been working with clients who have been victims of abuse.  While these individuals and families often present with complex mental health and relationship issues, they all have the experience of trauma in common.  While Teresa uses a few different therapies, depending upon the unique needs of her clients (cognitive-behavioral, narrative and EMDR), her success likely comes from the use of a relational approach which highlights acceptance of people as individuals and experts on their own lives.
While therapy is of great interest to therapists, Teresa is well aware that clients prefer to heal within the context of their lives and move forward; therefore, she uses a solution-focused process that respects clients' self-determination and need for balance.
Our Therapists
Partnering practices and practitioners include therapists at Juno Counselling and Consulting and Health Stand Nutrition Consulting Inc., as well as independent practitioners Joanna card, Lindsay Huculak, Talia Zink, Tasha Belix, and others in the community.
Partnering with Lionheart Foundation
Brain science in the area of adolescent mental health is ever-evolving and improving, and we are committed to working with the professional community to monitor key developments and to encourage and share best practices with the broader community. By working together, we are improving positive outcomes in our communities.
We are also working to bring the mental health practitioner community together and to promote greater awareness of mental health issues in adolescents.  We actively seek partnerships with therapists who use, or who are open to using, a unified treatment and therapeutic approach based on current brain development research, attachment theory, and interpersonal neurobiology.
Contact us if you are interested in learning more about partnering with Lionheart Foundation.
B'tween Girls!
Lionheart Foundation is proud to invest in and support B'tween Girls, a school-based program for girls in grades 4, 5 and 6 that builds essential relationship skills, confidence and emotional regulation.
The B'tween Girls program is passionate about prevention and early intervention. Our goal is to reach girls before they lose themselves in that Bermuda triangle of adolescence. In our 8-week program, we address the complicated and multifaceted nature of "girl world", and its effect on social and emotional development. Our mission is to educate, empower and inspire girls to develop healthy relationships, with themselves and others.
Contact us to learn more, and read more about B'tween Girls creator at www.tashabelix.com.
Specialized Training for Therapists
One of our main goals is to expand the counselling capacity in Calgary and area so that families can quickly access specialized treatment for their children.
In the past, the Foundation has supported a training program that aims to create specialist therapists in four important lines of clinical research:
Outcomes in psychodynamic psychotherapy
Attachment theory
Current research in brain development and affective neuroscience
Emotion Focused Family Therapy
Specialized training is delivered through educational workshops, direct therapist supervision, and individual and group consultation.
Training for Medical and Educational Professionals
Lionheart Foundation provides training to medical professionals working with adolescents in the area of mental health.  For example, in February 2018, we co-sponsored a course with the Silver Linings Foundation and the University of Calgary called "Demystifying Eating Disorders." The workshop employed experiential and interactive techniques such as role play and group discussion to support primary care healthcare professionals in their work with patients with eating disorders. Topics covered included screening, identifying and responding to patients, discriminating between the types of eating disorders, and practical treatment approaches to assist patients in the community.
Upcoming Professional Development Events

Brain Story Certification
Lifelong health is determined by more than just our genes: experiences at sensitive periods of development change the brain in ways that increase or decrease risk for later physical and mental illness, including addiction. That finding is the premise of the Brain Story, which puts scientific concepts into a narrative that is salient to both expert and non-expert audiences. The Brain Story synthesizes decades of research and reflects a body of knowledge that experts agree is useful for policy-makers and citizens to understand.
The Alberta Family Wellness Initiative (AFWI) has developed an online course to make Brain Story science available to professionals and the public. Brain Story Certification is designed for those seeking a deeper understanding of brain development and its consequences for lifelong health. The course is also designed for professionals seeking certification in a wide range of fields.
Our Therapeutic Methodologies
Attachment Theory
We use Attachment Theory as a primary assessment tool to understand our clients' basic capacity for emotional health.  This theory is applied because disrupted secure attachment bonds at critical phases of a child's development are seen as a cause of problematic self-regulation of their emotional states.
Brain Neuroscience – Eye Movement Desensitization and Reprocessing
This approach relies on brain development research, including the right hemisphere's role as the emotional regulator, to guide treatment. Our therapists guide our client's moment to moment tracking of their emotional state to promote change, a technique of Emotionally Focused Therapy.  The work of the therapist is to "snag the brain" with the use of various therapeutic interventions to build new regulatory abilities. EMDR is used as a primary therapeutic tool in the 're-wiring' process. We are in effect re-wiring the brain to tolerate emotional states, and to regulate them without the use of past self-harming behaviors such as anxiety, depression, self-mutilation, self-depreciating behavior, addictions, disordered eating patterns, and relational failures.
Interpersonal Neurobiology
This approach enables clients to understand the connections between their attachment experiences and the development and function of their brains. Our therapists work with the client and her parents to develop a more coherent understanding of their relationship, and their understanding is deepened when we blend both subjective and personal reflections with objective scientific knowledge.
Emotion Focused Family Therapy
Emotion Focused Family Therapy (EFFT) is rooted in attachment theory and uses the strong bond between parent and child to heal emotional wounds.  Trained therapists coach parents to support their children to attend to feelings by identifying, labelling, and then meeting the related underlying needs.  A process unfolds whereby knowledge is imparted through this problem-solving process and parents are encouraged to continue to build skills that they can use to care for their child.  It is not always possible to understand all the details about when, where and why feelings exist; rather, the focus is on acknowledging and addressing them.
Research Resources
Resources are coming soon.